A Complete Guide to financing your Master's Program in the US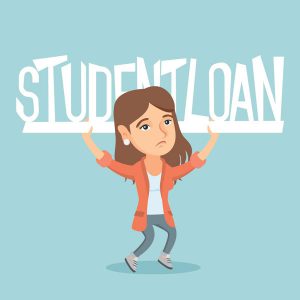 The US is the dream abode for many international students to pursue studies. The degrees offered in the US are world renowned and hold a unique prestige. True to the word, the universities there also provide brilliant academics in more than one way. It would be a disaster if you missed the chance due to lack of funding. To help you, here we've provided an exhaustive list of the different aspects of financing your Master's program in the dreamland.
An Overall Look at the Tuition Fees
The amount of fee that you have to pay depends on the institution you are planning to enrol in.
For a Bachelor's Degree,
– You'll pay around 18,000 to 35,000 USD for a year in private universities.
– You'll pay around 12,000 to 25,000 USD a year in State Universities.
The fees for master's Degree courses further vary depending on the subject of study you've chosen. Master's programs focus on practical study and research in a field, so involve a high number of projects and lab studies as compared to a bachelor's. Then there's another factor – Academic Master Degree courses have different prices than the Professional Master Degree courses.
Tuition Fees (2017) at the Top Ranked Universities in the US
– Average of 41,300 USD per year – Princeton University
– Average of 25,000 USD per year – Harvard University
– Average of 50,000 USD per year – University of Chicago
– Average of 50,000 USD per year – Yale University
– Average of 50,000 USD per year – Columbia University
Some of the Most Affordable Universities in the US as of 2017
– Average of 8000 USD per year – California State University Northridge
– Average of 11,000 USD per year – Marshall University
– Average of 14,000 USD per year – Tulane University
– Average of 18,000 USD per year – University of Maryland
– Average of 25,000 USD per year – DePaul University
Master's Program Fees for Different Disciplines
– Business – Average 40,000 USD. Full time, On Campus Business studies at Stanford or Harvard, will amount to 120,000 USD per year.
– Engineering – Average of 20,000 USD. John Hopkins University provides its engineering courses at 47,060 USD per year.
– Law – Average tuition fee of 20,000 per year. Cheaper programs can also be found – Law Degrees cost around 10,000 USD per year in the City University of New York.
– Medicine – Ranges from 50,000 USD to 17,000 USD per year.
– IT and Computer Sciences – Average of around 25,000 USD per year.
– History, Humanities and English – Average of around a little lesser than 20,000 USD per year.
– Education Degrees – Average of 10,000 USD per year for international students.
How to Finance your Master's Degree Programs
There are a few different routes that you can take when signing up for a Master's Program in the US.
Here we list them out for you.
1. US Based Scholarships
Many universities in the US offer financial help to students who have outstanding merits. You can get a scholarship easily for graduate courses. Biological Sciences, Physical Sciences and Engineering are the study fields that usually receive a generous funding. Depending on the country you come from, there are a variety of choices available to apply and they are very competitive too. If you manage to acquire a scholarship, it adds a golden feather to your resume and eases off all your worries about finances in one go.
Some prestigious US-based scholarships:
– Fulbright Foreign Student Program
– Aga Khan Foundation International Scholarship Program
All the Universities of US include fees and a financial aid calculator on their websites. You can get info about grants, scholarships, assistantships, study loans or work-study from the websites. If applying for financial aid, do it at the same time when submitting your University Application. Research well and apply in advance to avoid any mishaps.
2. Home Country Based Fellowships and Scholarships
Depending on where you are from, you can check whether your home country offers any scholarship programs for students studying abroad. Many agencies fund foreign education and it is highly competitive but worth a try. Such scholarships are usually accompanied by a clause that you promise to return to your home country after the completion of your studies. You will need to apply almost a year in advance to acquire one successfully. Some scholarships take care of all expenses including the entire tuition fee, book charges and living expenses, while partial funding programs pay only for the tuition fees.
Some of such Fellowships for the Indian Students are:
– Tata Scholarships for Cornell University – Provided by the Tata Education and Development Trust for students taking up courses in Cornell University.
– American University Emerging Global Leader Scholarship
– ETS TOEFL Scholarship
– Lady Meherbai D. Tata Education Trust Scholarships – For Women.
– Inlaks Research Travel Grants – For Humanities and Social Sciences Students.
– Inlaks Scholarships to Study Abroad – Not for Engineering, Business Studies, Computer Science, Engineering, Fashion Design, Medicine, Film Animation, Music or Public Health students.
– Rotary Foundation Ambassadorial Scholarship – Grants from 15,000 USD to 30,000 USD in the areas of Disease Prevention, Treatment, Economic/ Community Development, Literacy, Basic Education, Child and Maternal Health, Water Sanitation, Peace and Conflict Resolution and Prevention.
3. Research Assistantship
Research Assistantship is like a part-time job where you assist your professor in their research project. Many organizations like national labs and industries partner with academia to solve challenges and technical problems and fund professors to conduct research. If you assist in the research, the Professor will pay a part of your monthly tuition as a stipend. You can even get 100% waiver in tuition fees in some cases. Also, the research that you do will grow into your Ph.D. thesis; you can also claim publications in the project.
Acquiring one such position is quite a challenge due to a few factors. You will have to impress the professor with a keen interest in their work; you both need to get on well. Also, a Research Assistantship is a position with a significant responsibility that has its quirks and turmoil; professors will have to be sure that you are a capable person.
The key to successfully getting a Research Assistantship lies in communicating well with the professor. You can get in touch with current students of the batch who can help you identify professors who have research funding available. A word of caution – the area of research you choose should be something you are passionate about and you must be compatible with the professor; otherwise, your stay will become a living hell.
4. Teaching Assistantship
Teaching Assistantship is another way to get funding for your Master's Program. You will be required to help your professor in coursework and get your tuition fees waived off for it. The work of a Teaching Assistant varies based on the professor you are assisting – each person has different expectations. You will usually be required to grade projects and homework and prepare quizzes. You may also be required to help out students with their questions/doubts and supervise lab sessions.
If you have completed the class in the previous semesters or if you are proficient in a similar other higher level, you may be eligible to be considered for the position. If you've aced the subject and are or the teacher's favourite, you might get picked easily.
5. Internship
When you are an International Student studying in the US, you are only allowed to take up an internship after 9 months' completion of your program. You can find many internship opportunities in websites of various companies. Start applying to them as soon as you begin your program; it may take you a while to find one.
There are two setups:
– Internships: You will work full time for 3 months in the summer.
– Co-Op: You can choose to work 4 months during your semester's part-time.
On an average, you can make money for two semesters if you work for 6 or 7 months. You can also use the opportunity well to build some meaningful relationships which can be helpful later. Also, the internship will also add weight to your CV.
6. Administrative Assistant
Administrative Assistant is not a properly defined job. It is usually confined to the campus. You may be required to run odd errands for the administration for a waiver of your fees. Typically the work will include collecting forms, checking the completion of forms, entering data into Excel/ Word, copying, typing, informing parents' miscellaneous info, selling tickets, etc. There is also no set pay for this setup. You can check with clerks in your university to know if they need an extra hand in exchange for some funding.
7. Campus Jobs
The type of VISA you have will determine if you can work in the United States and in what positions. When in doubt, you can check with the International Student Services (ISS) to get info on the correct procedures to follow. Mostly, you will not require any authorization to work on campus. Be careful – violation of the rules may result in I-20 getting terminated without any option for reinstatement.
On-campus jobs include working in cafeterias, campus café, library archives, taking care of sports equipment, dean of students office, writing newsletters, counselling services, student government office, computer labs, gym helper in campus fitness center, mentoring new students and similar other positions.
The easiest way to get a job on campus is through your connections with seniors. Most seniors give away their jobs to someone they know well or through a recommendation. You can also contact the Department Head directly with a simple resume highlight your achievements to be considered if any position opens up. You can even volunteer in different groups to find out which you enjoy the most and will later be naturally chosen for a position there as you will be well known. These jobs are the proven way many international students make money for their studies.
Usually, the first semester is the toughest one – many students apply late and miss chances of funding. Later, a significant number of them usually get a job/ waiver one way or another if they try right and highlight their achievements. Also, all the above positions are reviewed each semester – poor performers will be sent out, so new positions might open up during a new semester, so keep trying and putting out feelers.
We hope that this post helps you in vanishing your money worries and gives you hope! Don't lose heart, keep trying!