Thinking about outsourcing? Weighing up the pros and cons of setting up a remote team to outsource work to India?
We got you covered. This is the first of two articles in which we take a deep dive into the advantages and disadvantages of outsourcing.
With modern-day technology collaborating with a remote team halfway across the world is easier than ever.
Without further ado let's get into the benefits of outsourcing:
1) Get more work done or cut costs (You get to choose!!)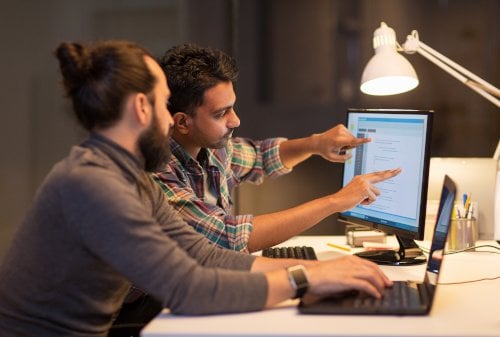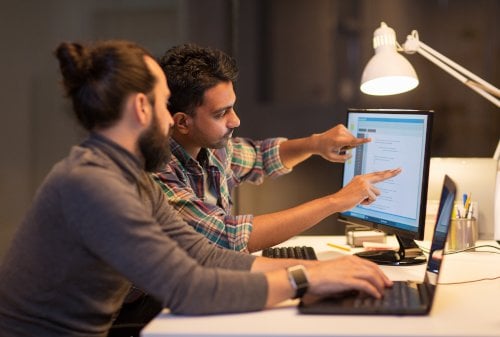 Yes, your primary aim for outsourcing is to bring the costs down. But with this mentality you are looking at the glass half empty instead of glass half full.
With the right hiring practices you can find great talent here in India.
Not only that; you will be paying significantly less than US wages.
A good developer may cost $60 per hour in the US, in India you can hire a rockstar developer for $20 per hour.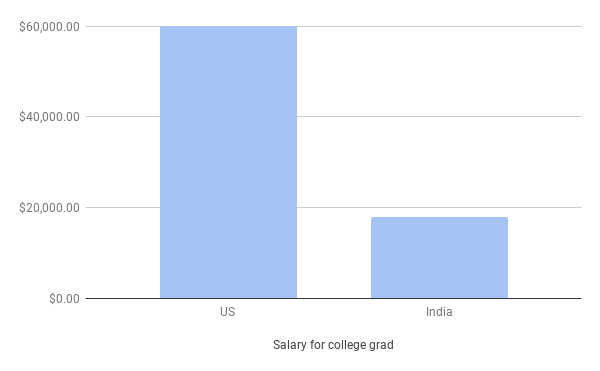 By lowering costs you can gain a business advantage over your competitors.
You can hire three employees instead of one and hit your company's OKRs (goals).
Don't believe me?
All the major companies have offices in India.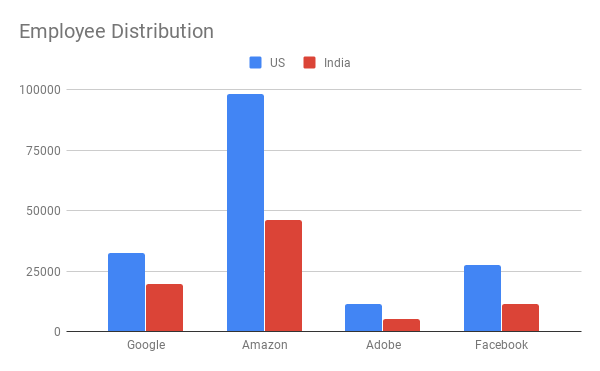 Employee distribution breakdown:
Google
US: 32,359
India: 19,688
Amazon
US: 138,158
India: 46,718
Adobe
US: 11,482
India: 5,317
Facebook
US: 27,465
India: 11,234
2) Huge talent pool to choose from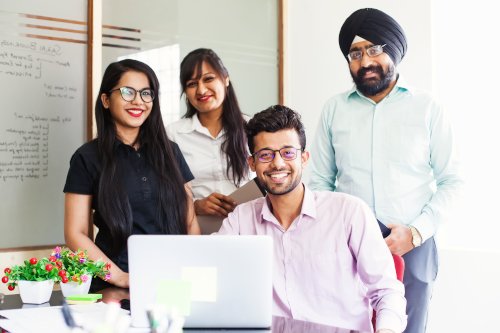 The average number of job applicants for a posting in India is 1400, compared to 300 in the US.
You have almost three times as many applicants to choose from.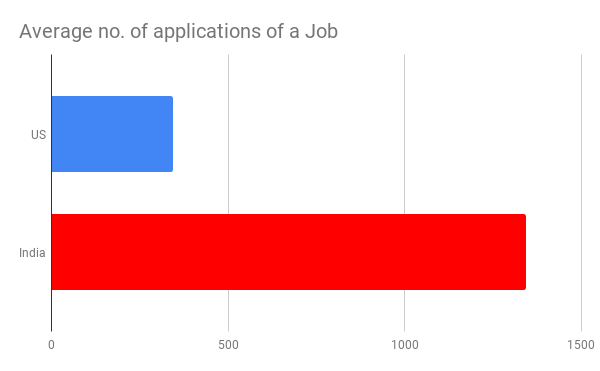 3) It's all about quality
Are you worried about the quality of your workforce? Don't sweat, here are few stats that will put you at ease.
Right now there are about 1.8 million Indian immigrants working in the United States. Many are super-talented, super-savvy individuals who studied and lived most of their young adult lives in India before making the decision to migrate to the U.S.
Unfortunately, because of the current immigration system issues facing the U.S., many of these talented professionals looking for employment are unable to migrate.
That means, there's a whole lot of potential in India ready to be tapped!
Twenty million college students graduate every year, compared to 3.8 million in the US.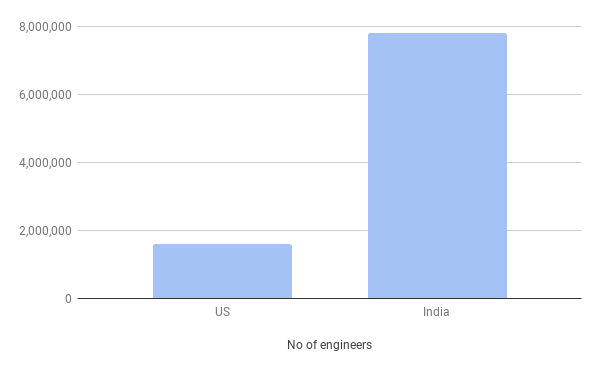 There are 7.8 million engineers in India i.e., almost five times more than in the US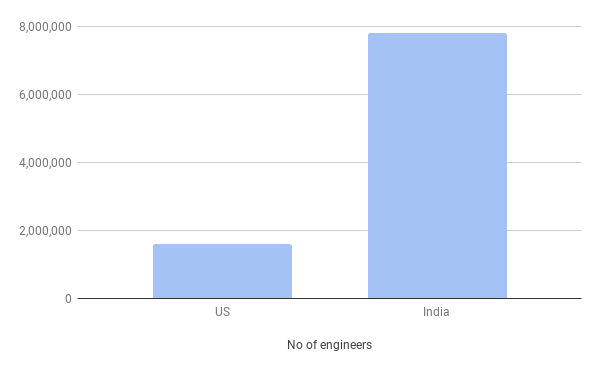 4) Not much of a culture difference
Culturally there is not much of a difference between young India and its Western counterparts. We are usually on the same wavelength..
We think Game of Thrones Season 8 is terrible!!
Chernobyl is definitely the best thing on TV this year.
We love sci-fi movies, from Stars Wars to the Matrix.
We cheered equally loudly when Captain America picked up Thor's hammer in Avengers (oops spoiler..err sorry!).
My point is that these days there is so much common ground between the people of the two countries, you can easily bond with your outsourced team.
You get to keep the great office camaraderie that you are used to in the US. We even play march madness bracket challenge (Go DUKE!!)
5) Best in class infrastructure and ease of business.
Basically fast Internet; really fast Internet. India has great Internet speed; your video calls will be seamless; all your employees will have a US number on which they can be reached.
With the right partner (wink! us!!), you can be seamless have a team set up within a week, without having to worry about compliance (we take care of that for you—and the hiring!)
Timing isn't an issue, as your remote team will work in your time zone.
6) Focus on your core
Hate being put on hold by UPS for two hours? Now you don't need to! Outsourcing is a great way to offload mundane or backend tasks, so that you can focus on your core activities.
By outsourcing backend tasks, you will have the freedom to completely focus your attention on high leverage activities, aka profit-making activities (ka-ching!! $$$)
Most companies that have outsourced have not only saved costs but achieved greater revenue growth over a period of two years.
In conclusion
Outsourcing is a great way to get great talent for one-third the cost. You can not only reduce costs, but also improve productivity and efficiency.
Jeff Bezos, Tim Cook, and Mark Zuckerberg all are doing it, you should probably be doing it too!!
Liked what you read? Now is the perfect time to take your business to the next level by setting up an offshore team in India.
We have helped all kinds of businesses grow, from funded startups who want to develop rapidly in order to capture the market, to small businesses trying to reduce costs.
Fill in your details below and we'll get in touch.