Data is an integral part of any organization. Outsource data entry is all about hiring a team of data entry professionals who empower your business by increasing operational efficiency. It in turn helps you to increase work efficiency and save budget on data management.
What is data entry outsourcing?
Data Entry outsourcing is described as transcribing written documents into digital data or transferring existing electronic data into other formats.
When a business hires a third-party data entry service provider who is often based in some low-cost offshore destination, it is referred to as data entry outsourcing. 
What are the skills for data entry?
The skills required for data entry are the following:
The data entry professionals must be aware of software like spreadsheets, word processors and databases. The professional data entry specialists generate statistical and financial information using keyboards, scanners, etc. Thus, they must know how to use computers.
Good Written and Communication Skills
It is imperative to maintain the accuracy of data and its analysis, for which the data entry professionals must know how to communicate verbally and in writing. 
Data entry professionals are usually trained to type fast. They are required to perform vast amounts of data entry every day. On average, they should be able to type 30 to 40 words per minute.
Accuracy in doing repetitive tasks
Data entry professionals have to do the same task of typing data repetitively. These professionals must have high levels of patience and concentration. 
Data entry specialists must have high concentration and an eye for detailing.
Capable to work independently
A professional data entry operator must be able to work efficiently with minimal or no supervision. Data entry specialists' jobs are the same as they have to sit in front of computers throughout the day. They should be proficient in handling their work with full accuracy.
How do you prepare for outsourcing?
Outsourcing data entry requires you to have an in-depth understanding of your requirements. To prepare to outsource, you must do the following:
Analyze your work requirements, current on-going projects, the amount of data generated, etc.
Then, you need to look for a professional data service provider who knows the job well. You may go by references and check the reviews online.
Once you have got the right fit, then you need to outline all your requirements clearly.
You can outsource a specific part of your data to see the professional service provider's work quality.
If you are happy with their work, you can outsource the rest of the data.
Eventually, you can focus on scaling up your venture.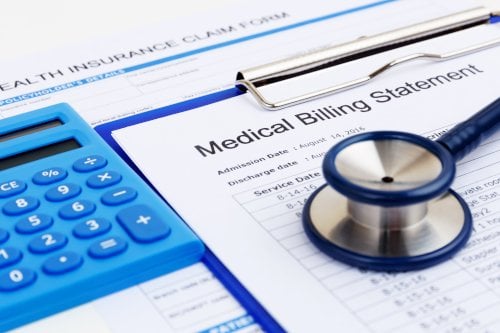 Healthcare and medical sector require continuous processing of superbills, insurance claims, managing invoices, patient details, medical history of every patient, etc. Choosing to outsource data entry can reduce your budget for data management by 40 to 50%.
The medical industry requires the following types of data entry:
Medical billing
Medical Transcription
Medical Invoices data entry
Patient details and medical history, etc.
Insurance Claim data entry
Insurance claim entry is essential for claiming reimbursement by a respective insurance carrier. Generally, data entry is needed to:
To feed data on disability claims
Critical illness forms
Death claim forms
Hospitalization and accidental claim forms, etc.
General insurance claim entry
Mortgage insurance claim entry
Medical insurance claim entry
Life insurance claim entry
Handwritten Data Entry Services
These days most organizations are moving towards becoming paperless by digitalizing the data. Converting handwritten data into digital format is highly cumbersome and tedious, and thus is preferably outsourced. 
The following data entry is popularly done:
Data entry of Handwritten memos, questionnaires, work orders, vouchers, index cards, letters, claim forms, legal and financial documents, etc.
Data entry of statistics, accounts sheets, medical reports, CV's, archives, etc.
This particular data entry service is used to convert the image into a particular format like pdf or MS.
The following data entry jobs are done concerning image data entry:
Image capturing and editing
Image Cropping
Data storage and retrieval
Visiting Card entry
Catalog entry
Book-entry, etc.
The data entry requirements are specific for each industry and thus are customized accordingly.
Captchas or images are a popular security tool used by all good websites to ensure the website's security. These captchas may contain images, texts, alphanumeric data, etc. These captchas are designed by data professionals who continuously make new captchas for hundreds of websites each day.
It is essential to have good English language skills as data entry professionals need to copy and paste data from one file to another.
The media industry mainly requires captioning data entry. The professionals write the headings for new pieces or images.
Organizing huge volumes of data to make it look orderly and accurate is data cleansing. The erroneous data is detected and rectified and the correct information is stored. Data cleansing is also referred to as data scrubbing. 
Data Processing involves collecting and modifying information for later use. Data processing is used in filtering data, storing data, reporting, analyzing data, etc. Data Processing is all about treating raw data in such a way that it becomes useful. 
Data classification is organizing data into categories. It involves sorting information and storing it under different heads so that the information is easily accessible when needed. Artificial Intelligence and Machine Learning software often make use of classified data.
OCR technology is used by professionals for data classification and sorting.
Data Conversion is all about converting data from one format to another. The data is converted from a physical format to a digital format or from a digital format to another format. For Example, jpg can be converted to pdf, pdf to XML, etc. Data conversion can be done manually or online.
The key benefits of Outsourcing Data Entry
Choosing to outsource data entry is an excellent decision to buy more time to focus on your business. Outsourcing such time-consuming tasks have been shown to increase your operational efficiency to a great extent. 
It enables to use of technological advancements without investing and mitigating risks. You also get to avail customized solutions matching your needs.